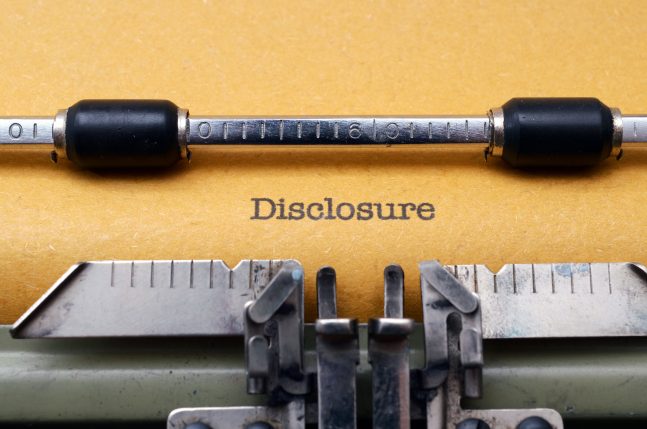 When you're separating, you and your former spouse have a duty to give each other all the relevant information about your respective financial situations – this is called the duty of disclosure. The parties and the court are entitled to this information so that they can form an accurate picture of each party's income, expenses, assets, liabilities and financial resources.
Keep reading to learn more about your duty to disclose in family law proceedings or speak to one of our experienced family lawyers if you have any questions.
Overview:
What is the family court duty of disclosure?
In the family court, duty of disclosure means that every party to a family law dispute has a duty to disclose all relevant information to each other. This includes paper documents and other electronic means of storing information, as well as documents that may not be known to the other parties. 
This duty comes into effect at the beginning of the proceedings, before the case starts, and may continue until it ends.  
What should be included in a financial disclosure?
In financial disclosure, one must disclose whatever information he or she has access to regarding earnings, interests, property, or any other financial resources.
This can include, but is not limited to:
Details of assets that you own or are in your possession, including valuations or appraisals of these assets

Copies of pay slips, group certificates and/or Centrelink statements;

Copies of tax returns, estimates or assessments

Salary sacrifice arrangements and 'cash in hand' work. 

Evidence of other income (for example, rent receipts, dividends from shares, interest, etc.)

Copies of statements from any of your bank, building society and/or credit union accounts

Copies of statements from any credit card/s and any loans;

Superannuation statements.

Details or interests in any company and/or trust and supporting documentation.

You should also disclose any assets or liabilities in your name or jointly with another person including: 

Real estate

Bank accounts

Shares etc.
If you have any questions about the information and documents you need to provide, please don't hesitate to get in contact with Beger & Co's experienced family and divorce lawyers.
What can happen if a party refuses to disclose relevant information in family court proceedings?
If you do not comply with your duty to disclose, the court can make orders which will force you to supply the required information, or the court can issue a subpoena to you, other individuals and financial institutions. (A subpoena is a court order which requires a person or organisation to give evidence and/or provide documents.)
There are also serious consequences for refusing to comply with the duty of disclosure. Some of the consequences include:
If a party fails to disclose all relevant information, a court can also refuse to allow you to use that information in support of your case. 

A court can set aside a property settlement order or

Binding Financial Agreement

. 

A non-compliant party may face an additional claim for property settlement from the other party, and may also be ordered to pay some of the legal costs of the other party.
Duty of disclosure FAQ
Is it illegal to hide money from your spouse?
Hiding money from a spouse, particularly when you are going through a divorce, or about to go through a divorce, is unethical and illegal. If you believe this may be happening to you, please contact our family dispute lawyers today, who may be able to assist. 
Speak to a family lawyer
If you're going through a divorce or the separation of a de facto relationship, and are unsure of what information you need to disclose, speak to the expert lawyers at Beger & Co. We can guide you through the family court proceedings and help you prepare all the information you need. 
As the best lawyers Adelaide has to offer, we've got all of your questions about duty of disclosure covered. Contact us on 08 8362 6400 to discuss your needs on a no obligation basis. You can also contact the Beger & Co team online for any questions you have about our family dispute resolution services. 
People also read: