We know that trying to reach a property settlement or child custody agreement can be extremely stressful – particularly if you are doing it on your own. That's why you need a divorce lawyer who understands what you're going through and how to support you.
At Beger & Co, our family lawyers can help you achieve the best outcome so you can move on with your life. Call us to speak with the divorce lawyers Adelaide residents trust for specialist guidance on a no-obligation basis. You can also read our client reviews to see how we've helped others.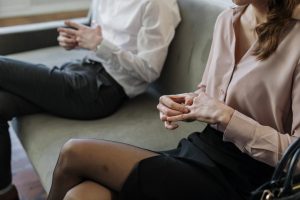 Separation and divorce lawyers you can trust
Separation from a spouse or de facto partner is an extremely stressful experience. As the best separation lawyers Adelaide offers, our focus is to provide our clients with common-sense advice with the aim of achieving a timely and commercially sensible outcome.
Our divorce and separation lawyers in Adelaide are experienced and skilled negotiators. They have consistently achieved excellent results for our clients by direct negotiation and in mediation, required skills for experienced litigation lawyers.
Divorce legal services
At Beger & Co, our family law specialists are here to guide you during the divorce process. With an extensive knowledge in family law matters, we can assist you in the following areas:
Spousal maintenance
Our Adelaide divorce lawyers are experts in spousal maintenance. If you think you're entitled to financial support from your spouse, get in contact with our spousal maintenance lawyers today.
Child support & parental arrangements
Divorce is no doubt a traumatic time, but when children are involved, it can add another layer of stress. To help ease this, turn to the child custody lawyers Adelaide residents trust.
Property settlements
At Beger & Co, we'll work with you to ensure you get a fair outcome during the divorce process. We'll help you to understand your rights when it comes to assets, liabilities and the financial and non-financial resources you and your former partner hold.
Financial agreements
Whether you're in a relationship or already separated, you can make a financial agreement with your partner to protect your financial future. Before entering into any agreement however, you need to be fully aware of your rights. This is when you should turn to an experienced family law firm like Beger & Co.
Financial agreements also incorporate prenuptial agreements, which the prenup lawyers at Beger & Co can help you with.
Applying for divorce
The divorce process can be complicated, but you don't have to go through it alone. If you wish to apply for a divorce in Australia or just have questions about how to divorce in SA, Beger & Co is a trusted source of information. Find out more: Divorce In Australia
Divorce & Family Court
If a dispute cannot be resolved by negotiation, Court proceedings may be necessary. Our lawyers have extensive experience in the Family and Federal Courts, both as instructing divorce solicitors and counsel. We provide our clients with forceful representation, but always with a view to achieving the best and most cost-effective result in a timely manner. We know that long drawn out Court proceedings sometimes result in both parties losing.
Are prenups binding in Australia?
Michelle Crichton has published an article which deals with this issue: "Binding Financial Agreements Between Spouses". Find out more.
How our divorce lawyers (Adelaide) can help you
When you're facing the breakdown of a marriage or de facto relationship, there's a lot to consider. From the property settlement, to financial agreements and child support arrangements. But at Beger & Co, we're here for you every step of the way. We can assist you with your application for divorce, offer legal advice for property and financial issues and help with consent orders.
The experienced team of divorce lawyers at Beger & Co will ensure you understand the expected time frame and cost of each step in your matter, and that you feel in control of the entire process. Working with you, we will discuss the pros and cons of the various choices along the way and how to bring you the best outcome.
Read our client reviews to see why we are the divorce lawyers Adelaide chooses. Contact our family lawyers now to discuss your family law issues on a no-obligation basis.