It is vital to get the right advice when buying a franchise. A good franchise should guarantee a hard working owner an excellent return. That isn't always the case – there are many traps for the unwary. We are experienced Adelaide franchise lawyers with a reputation for being good communicators. Read our client reviews and then talk to one of our commercial lawyers  about your franchise matter on a no obligation basis.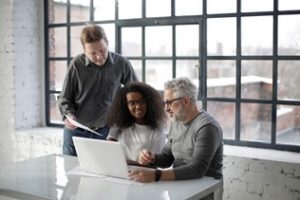 Trusted & Experienced Franchise Lawyers
If you're thinking of franchising your business, buying a business franchise, or are involved in a franchise dispute, you can turn to the expert franchise and business lawyers at Beger & Co. Our Adelaide based team has a wealth of knowledge and expertise in all areas of franchising.
Aside from helping you to buy a franchise, we can also advise you on:
The most appropriate ownership structure for purchasing a franchise. We will help you: protect your investment and your other assets, and minimise taxation obligations during the ownership of the franchise business and upon its sale.
Leasing of commercial premises (our commercial lease lawyers can help you understand your rights and obligations).
Financing and franchising documentation.
Employee issues and employment termination
Trademarks and intellectual property
We have significant experience with most franchise systems. We have acted for many franchisees that now own businesses within the most successful franchises in Australia. Contact our franchise lawyers today on a no obligation basis.
Franchise Gone Wrong: Why You Should Speak to a Franchise Lawyer
Carol and David  planned to buy a franchise business. After some additional research, however, they were surprised to find out that they were only buying the remainder of the franchise term.
In less than 7 years, they would have no further right of renewal and would lose their business and their $250,000 investment. At the end of the 7 years, the restraint of trade and non-competition clauses in the franchise agreement would have prevented them from dealing with their customers or working in the same industry. The strict contractual nature of the franchise arrangement was spelt out. When they asked the franchisor to guarantee a further renewed term – the answer was "no".
This is why it's crucial to contact a franchise lawyer before entering into any agreements, so you can save yourself future stress, time and money.
Does the new Franchising Code standardise agreements?
The new Code applies to all franchise agreements entered into after 1 January 2015. Whilst the Code effects some content of agreements, it does not standardise them. All franchise agreements are different. See our article on the necessity of Independent Legal Advice Before Buying a Franchise Business. Find out more
7 Indicators of Franchises to Avoid
In our experience, there are a number of warning signs for prospective franchisees. They are:
If you have been lucky enough to "get in on the ground floor" by being one of the first franchisees for a new business idea. From a franchisee's perspective, the whole idea of buying a franchise should be to step into a tried and tested successful business model that is guaranteed to work if the system is followed. Avoid the temptation to be a pioneer when it comes to buying a franchise.
Bad press about the franchise or one of its directors.
Talk to existing franchisees and, if possible, past franchisees. If the general feeling is negative it might be a good idea to look for another franchise system.
If the number of years left in the term (including any renewed terms) is very limited.
Where the franchise agreement includes minimum sales requirements that are clearly unrealistic given sales figures of similar franchises within the group.
The franchisor has not provided you with an up to date and complying disclosure document, a draft of the proposed franchise agreement and a copy of the Franchising Code of Conduct as required by the Competition and Consumer Act 2010.
If the terms of the franchise agreement are clearly unreasonable.
Selling or Buying a Franchise: Advice From Our Lawyers
Whether you need a franchise litigation lawyer to help you resolve a franchise dispute or simply want more information on franchise law, you can turn to Beger & Co. We've helped many franchisors and franchisees in Adelaide, and we can help you too.
Read our client reviews and then talk to us about your franchise matter on a no obligation basis. Our commercial and contract lawyers are here to answer any  questions.