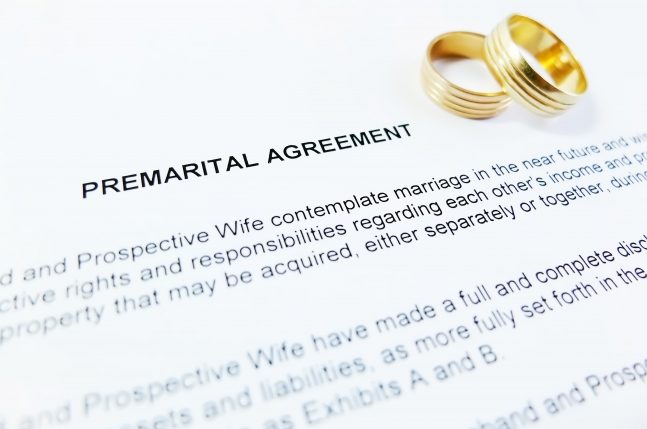 Are you married or living with your partner (or planning to do so)? Do you worry about how your assets and superannuation will be dealt with if you separate? You may want to consider drafting up a Binding Financial Agreement (prenup). But before you draft or sign the agreement, you need to know what's involved in Binding Financial Agreements. Read on to learn more or speak to one of our experienced family lawyers if you have any questions.

Overview:
What is a Binding Financial Agreement (BFA)?

A Binding Financial Agreement is a legally binding document that sets out an agreement about how assets should be divided if you separate from your spouse or partner.
Who can have a Binding Financial Agreement?
Married and defacto couples (including same sex defacto couples) can enter into a BFA.

A BFA between a defacto couple will become invalid if the couple marries. You will have to sign a new BFA with your spouse in order to have a valid and legally binding agreement.
What should a Binding Financial Agreement include?
You and your partner have to comply with the requirements of the Family Law Act 1975 in order to ensure that the BFA is legally binding. A divorce lawyer will be able to guide you. However, some of the requirements are:
You should each make full disclosure of your financial position, including your assets, liabilities, superannuation and business interests. If you omit any information, it may affect the validity of the BFA.
Both of you have to be represented by separate lawyers. You cannot be represented by the same lawyer, even if you are in full agreement with each other.
Your lawyers must each sign a certificate confirming that you obtained independent legal advice about your rights and obligations under the BFA.
You and your partner should enter the BFA of your own free will.
Can you do your own Binding Financial Agreement?

You cannot prepare a legally binding BFA without the aid of a lawyer (one for each party).

Does a Binding Financial Agreement need to go to Court?
If you are creating a BFA, you do not need to apply to the Court for approval. Instead, you need to engage lawyers that prove you have received independent legal advice (amongst other factors) to make it legally binding.
When can I have a BFA?
You can have a BFA with your partner before starting the relationship, during the relationship or after separation. If you wish to create a BFA post divorce settlement, it must be done within 12 months after.
A BFA at the beginning of a marriage or de facto relationship is often referred to as a "prenuptial agreement". You can decide how your assets are to be divided in case you separate.
You can also enter into a BFA during the de facto relationship or marriage if your personal or financial circumstances change (for example, if you receive an inheritance or if you start a business).

Additionally, you can enter into a BFA to divide your assets and liabilities after separation.
Should I enter into a BFA?
There are many advantages of a BFA, which include:
You can avoid the stress and cost of legal proceedings in the event of a relationship breakdown, including an out of court divorce settlement.
You will have some clarity and certainty about how your assets will be divided if you separate.
You can ensure that any children from a previous relationship are provided for appropriately.
However, a BFA does not suit every individual. We consider your individual circumstances when advising you about whether or not to enter a BFA. As the separation lawyers Adelaide know and trust, we are here to guide you through your BFA matters.
For further information about Binding Financial Agreements in Adelaide, please contact Michelle on 8362 6400 or email Michelle Crichton. And if you need help with your divorce property settlements (including doing a private sale) or need property and financial dispute resolution, please get in touch with our litigation lawyers or family dispute lawyers. Join our mailing list to receive updates and advice on current issues.
People also read: