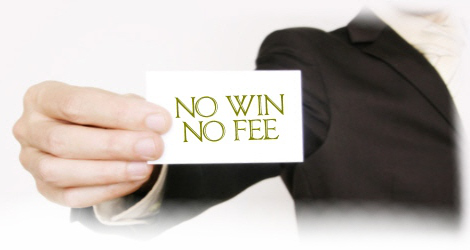 WHAT 'NO WIN NO FEE LAWYERS' ACTUALLY MEAN
'No Win No Fee' Tips and Traps
You've read it in the paper, seen it on TV, heard it on the radio: Lawyers in Adelaide claiming that they will take on your case, 'No win, no fee.'
It sounds very tempting from a financial perspective.  The offer suggests you won't have to pay legal costs unless your lawyer wins the case for you.
Further, the offer implies the no win no fee lawyers are so confident they can win your case, that they are prepared to risk their fee.
Frankly, it all sounds too good to be true. That in itself should raise suspicion.
'No Win No Fee' Terms and Conditions
There are invariably 'Conditions' or T&C's or a Policy related to No Win No Fee offers. Carefully consider the 'Conditions' before engaging a no win no fee lawyer.  Your no win no fee lawyer should recommend that you obtain independent legal advice about those conditions.  If you have been offered a contingency arrangement we strongly recommend that you obtain independent advice and we would be pleased to provide you with such advice.
'No Win No Fee' is a 'Contingency'
A 'no win no fee' arrangement is formally described as a 'Contingency' or a 'Conditional Costs Agreement'.
In concept at least, you only pay your lawyer if you win the case.
Is 'No win no fee' the same as not having to pay your lawyer until the end of the matter?
Many lawyers, including Beger & Co, will take on matters such as inheritance claims and contested estates where it is clear that the client will receive payment from either a settlement or a Court award.  These are matters where it is abundantly clear that the client has a very solid claim and there are ample funds in the estate.  Often in these types of matters we will not require the client to pay anything towards our fees or expenses because we are confident that we will receive payment at the end of the matter. Clients with these types of matters should not be offered a 'no win no fee' arrangement because there is really no chance of the case failing.  That is, there is not a significant chance of 'no win'.  This is probably the primary reason that someone being offered a 'no win no fee' arrangement should get independent advice – to make sure that the arrangement is appropriate and that there is a significant chance of both winning and losing.  If there is no chance of losing then a contingency arrangement is not appropriate and it is not proper for the lawyer to be asking the client to pay extra for this type of legal costs agreement.
'No win no fee' – Too good to be true?
Is a no win no fee arrangement too good to be true?
Well, it can work well, but before deciding to engage a lawyer on that basis, you need to bear a few things in mind.
'No win no fee'  Exclusions
No win no fee Conditional Costs Agreements have certain restrictions.  The Legal Practitioners Act, 1981 prohibits contingency arrangements from being used for:
criminal;
migration;
child protection; or
family law matters.
Fee cannot be a percentage of the settlement
Unlike the United States, a Conditional Costs Agreement in Australia can't direct a success fee or fee payable as a percentage of the award or settlement obtained.
'No win no fee'  Validity
In order for a 'no win no fee' Conditional Costs Agreement to be valid, it must:
Define exactly what type of outcome will allow an uplift in fees;
State the basis for the fee uplift and give an estimate of it (or a projected range, with major variables along such a range);
Be in written, clear plain language;
Be signed by the client;
Confirm the client has been advised of the right to seek independent legal advice about the agreement;
Confirm that the client has 5 clear business days after signing to 'cool off';
Be used only where the chance of the case failing is significant;
Not allow, in a court dispute, the fee uplift to exceed 25% of costs otherwise payable.
Notably, the agreement can require the client to pay (win, lose or draw) for disbursements.
These may include out-of-pocket expenses of the lawyer, such as:

Barrister's fees;
Court fees;
Fees for expert reports etc.
Bear in mind that in a contested court case, disbursements alone can sometimes amount to tens of thousands of dollars.
Court Oversight of No Win No Fee Arrangements
The Supreme Court of South Australia has a supervisory role over lawyers in the State. As part of this role, it can review a 'No win no fee' Conditional Costs Agreement and set it aside if it is not fair and reasonable.
What will be fair and reasonable is a matter for each individual case and client, but the Court will take into account whether the lawyer:
Misrepresented (even innocently) the effect of the 'No Win No Fee' lawyers agreement;
Failed to disclose all costs information as required under the Legal Practitioners Act;
Acted inappropriately during the handling of the case,
The Court will also consider the circumstances, and conduct of both client and lawyer before the Costs Agreement was made and during the course of the case.  So you can see the Court has a wide discretion to ensure that both client and lawyer are dealt with fairly.
Please consider
Beger and Co. do not generally enter into 'No win no fee' Conditional Costs Agreements. We are always prepared to discuss such an arrangement with clients if they wish.  Some questions that reflect our reluctance in this area are:
The chance of loosing must be significant
In order for a Conditional Costs Agreement to be valid, the chance of losing the case must be significant. In other words, the prospect of losing may be high, or substantial.  If so, ask yourself whether you want to throw time, stress, and possibly money at a risky case?
Don't pay more if you have a strong case
If the case is strong, why agree to pay a loading on fees of up to 25%?
'No Win No Fee' doesn't apply to all legal costs
If the case is lost, you only get the benefit of not having to pay your lawyer's fee or disbursements (although most contingency arrangements require the client to pay the lawyer's disbursements whether they win or lose. As with all litigation, it is usual that the Court will award costs against the losing party.  That means that if you lose you may still have to pay the other side's legal costs.
No Win No Fee and the opposing party
But what about the opposing party or parties in the No win No Fee case?
The Court generally orders that the losing side pays the winner its costs or a proportion of them. A while ago, we acted for a defendant who won his case against a plaintiff represented under a Contingency Arrangement. The unsuccessful plaintiff was up for almost $90,000 in costs.
So bear in mind that lawyers who advertise 'No win, no fee' mean 'no fee from us,' not 'no fee at all.'  This is a point also made by Sydney barrister David Jay in his article 'No win, no fee – no way?' published in the Sydney Morning Herald.
The 'takeaway' on No Win No Fee
The takeaway from all this? 'No win no fee' Conditional Costs Agreements have their place and can give real comfort to clients. However, the substance of a claim, its prospects of success, the viability of recovery of money from another party, and the estimated costs of pursuing the claim to a successful outcome all require close scrutiny before entering into such an agreement.
Seek Legal Advice before Signing
Beger & Co strongly recommends that you obtain our advice before signing such an agreement with another lawyer.  We generally don't offer no win no fee arrangements because we feel it conflicts with our desire to give our clients good advice about whether they should or should not proceed with a legal claim.  If a prospective client has a good claim in a deceased estate matter and there is a sizeable estate, we generally don't require payment until the end of the matter irrespective of the client's financial position.