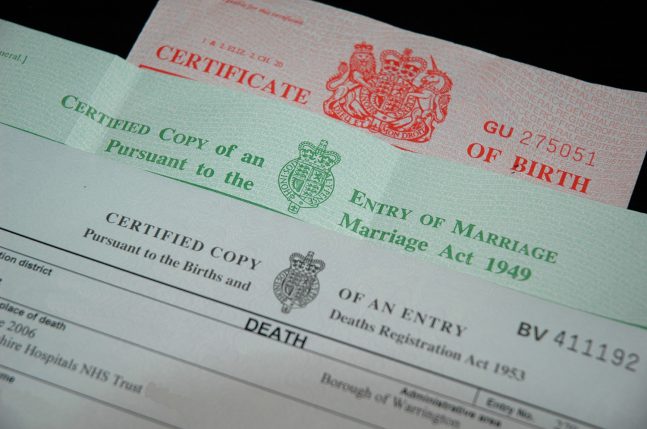 From 1 July 2015, all applications for Probate (or Letters of Administration) must be accompanied by an original Death Certificate, or a copy certified by a solicitor.
The Probate Registrar has indicated that he will not accept errors on the Death Certificate. This stems from the admirable conviction that the historical records of our State should be consistent. If anyone is researching their family history, or perhaps more importantly, trying to trace family records for inheritance purposes in the future, then they need to be able to find accurate records no matter where they look.
Unfortunately, misspellings, missing information and other mistakes on Death Certificates are quite common. Sometimes this is a result of the wrong information being given to the funeral director who orders the Death Certificate. Sometimes it is a simple typographical error on the part of someone involved in the process.
A common problem is the use of "unofficial" names. For example, many people residing in South Australia have birth names that they have "anglicised" to make their lives simpler. They may also assume shorter names, drop extra names or assume names they were not given at birth. One example is the assumption of a "confirmation name" as a middle name in some cultures and religions.
There are two important things to remember:
The name on the Will should match the name used when registering ownership of assets (e.g. the name appearing on the Certificate of Title for a property); and
The name on the Death Certificate should match that on the Will.
Finally, another common error relates to the address of the deceased. The last address on the Death Certificate should be the actual place of residence. If the deceased was in hospital, their home is still their last address. But if the deceased had moved into a nursing home and intended to remain there, then the nursing home address is their last address and should be included on the Death Certificate. Sometimes when the deceased's family home is still in their name it is considered by the family to be the deceased's real home and that address is used. However, this is not accurate for Probate purposes, so you should resist the urge to list the family home as the last address.
You can assist by, firstly, ensuring that the information given to the funeral director is accurate. If you are unsure, think about it carefully or even take some advice before finalising the details. Secondly, check the Death Certificate carefully when you receive it.
Luckily, it is relatively easy to correct a Death Certificate. The Registry of Births, Deaths and Marriages will produce a corrected certificate upon receipt of a letter explaining the required change, or if you visit their office at Ground Floor, 91 Grenfell Street, Adelaide with the incorrect certificate.
For further information please contact our probate lawyers on 8362 6400 or email Michelle Crichton. Join our mailing list to receive updates and advice on current issues.