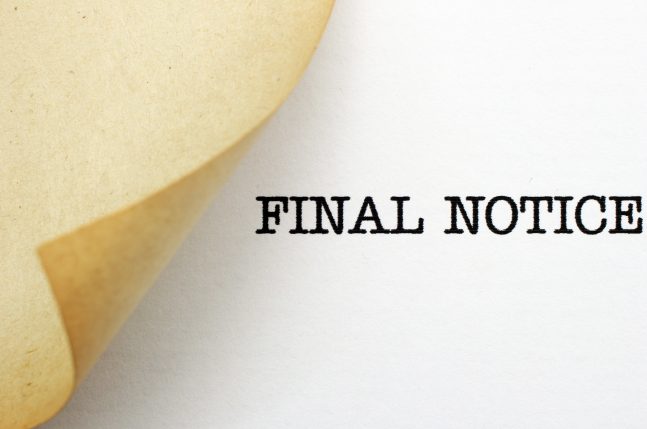 In a previous article (How to Deal With a Statutory Demand), we assured you that the 21 day window to apply (by filing the application and serving it on the applying creditor) to set aside a Statutory Demand could not be extended. The scheme set up by the Corporations Act is strict and inflexible on this point.
A recent case of ours illustrates the weight of that statement.
We had served a client's Statutory Demand for a debt, on the debtor company's registered office. That demand gave our office address for service of any application to set aside the demand.  Time limits are important for many legal matters and dealing with a Statutory Demand is no exception.
The debtor company filed an application to set that aside. It then "served" the application on the 21st day (or so it thought).
Execution of Service
Unfortunately, the debtor company "served" the application by email to our office at 5.20 pm.
Email is generally good service (except for initial claims, which generally have to be served in person) but many Court rules (including rules of the SA Supreme Court) state that any email sent after 5 pm is deemed to have been received (i.e. served the following day).
Solicitors at Beger & Co. do not generally 'clock off' at 5 pm! In this case, however, the day before the sending of the email attaching the application to set aside the demand, South Australia experienced a state-wide blackout, such that the lawyer in charge of the case took a once-in-a-blue-moon day-off the next day. So he didn't open the email, transmitted on the 21st day, till the 22nd day. Service of the application was therefore out of time! It was pure bad luck (for the debtor company).
The lawyers acting for the debtor company could have saved their client a whole lot of grief (and costs) if someone had got in a car, driven to our office, and slipped the application under, or posted it on, our office door. We are only 10 minutes' drive from the Supreme Court, after all. Had this been done on the 21st day, the debtor company would not necessarily have been thrown out of Court.
THE TAKE-AWAY FROM THIS? 21 days (sometimes involving only 15 working days) can go very quickly. So if you run a company, and your registered office (usually either your business premises or your accountant's office) receives a Statutory Demand, the time to deal with it is NOW.
For further information please contact Peter on 8362 6400 or email Peter Jakobsen. Join our mailing list to receive updates and advice on current issues.