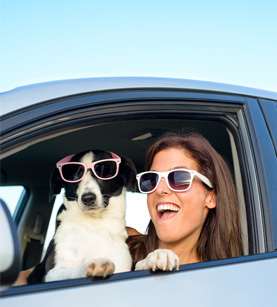 When the average yield for a 3 bed house in Adelaide is around 4.5%, is it really possible to buy an average 3 bedder that grosses 15% or higher? Yes it is! But of course, there's a unique business model behind this strategy.
One of my long term clients, Melinda Mayne, bought a very ordinary 3BR house at Encounter Bay in 2009 for $237k. Her goal was to get the property to pay for itself through holiday rentals and when it wasn't occupied, she could use it for a nice getaway. She had a look at the holiday rental market on the South Coast and found it flooded with properties – most of which had occupancy around 8 weeks of the year (15.3%). That wasn't going to generate enough income to get close to break even. So drawing upon her internet marketing background she looked for a way to market the property that would put bums in beds!
An analysis of the market revealed an opportunity: the average pet friendly holiday home had bookings that were much higher than the average non-pet friendly holiday home. 65% of Australians have a pet (and most of them have dogs and/or cats). Yet only around 20% of holiday homes were pet-friendly. Cha ching!
The property was given a quick makeover (be gone ye brunswick green and hello charcoal!) and furnished in a contemporary style. A few extras were put in to cater for pets. The total makeover and set up cost was approx. $10k (including $3k of exterior painting). From the first week the property was cashflow positive and it has remained so ever since. In 2014, it grossed $46.6k in holiday rental receipts (excluding bonds). On the original investment of $247k, this is an 18.8% gross yield. In early 2015, the property was sold for $320k – and at that price, it was still yielding 14.5%. Why sell? To buy an esplanade property in the same town which yields less but generates higher cashflow.
Melinda has now purchased an additional six properties between Encounter Bay and Goolwa and is managing another four properties for other people. The highest return is from a cheap three bedroom house purchased in 2013, which is yielding an incredible 20.6%.
The average occupancy across the portfolio in 2014 was 70.3% compared to the average rate quoted by South Coast real estate agents of 15.3% (for 8 weeks a year). Some properties that are well positioned and well marketed certainly do much better than this, but for average properties (and most of the portfolio would fall into this category), 8 weeks is normal.
The business, Pet Let, is now expanding through the acquisition of additional properties that meet its criteria (location, type, quality etc) – particularly properties to manage. If you have a holiday rental on the Fleurieu Peninsula that's not occupied at least 50% of the time, and you'd like to increase your returns, give Melinda a call on 0408 818 413 or by email at stay@petlet.net.au  She would love to have a chat with you. If you'd like to take your fur kids on your next holiday, check out the Pet Let holiday homes at www.PetLet.net.au
We have looked after Melinda's conveyancing and other legal matters for many years and, of course, we love being associated with a successful South Australian entrepreneur and her business.
Please call me on 8362 6400 or email Danny Beger to discuss your matter on a no obligation basis.  Join our mailing list to receive updates and advice on current issues.